This is an old revision of the document!
---
Table of Contents
ZTE Testlab(NJ)
ZTE is hosting an OPNFV testlab at Nanjing facility. The testlab would host baremetal servers for the use of OPNFV community as part of the OPNFV Pharos Project.
The ZTE Testlab consists of 1 POD
Testlab Introduction
The ZTE testlab(NJ) will provide the following facilities for OPNFV intergration and testing.OPNFV contributor or committer can create the VM to run the yardstick test case on openstack or run the OPNFV functest case on the jumperserver.
we will connect the lab to OPNFV CI as test function slave node.
Testlab environment
The ZTE testlab(NJ) testlab will follow the testlab environment requirement of PHROS project and BGS project.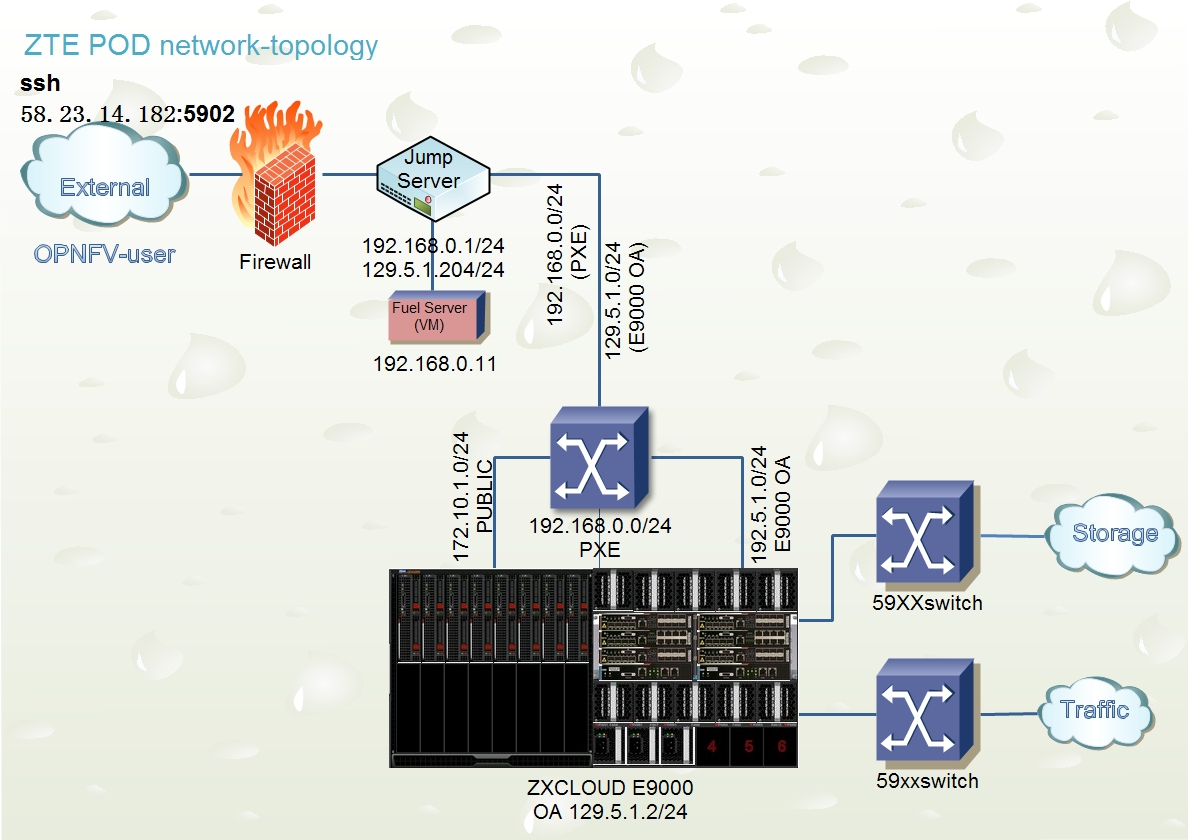 Testbed description
The POD consists of 8 servers that consist of
3 Servers for Control Nodes

3 Servers for Compute Nodes

2 Servers for Cinder
Hardware details
The specifications for the servers within POD can be found below:
| Hostname | Model | Memory | Storage | Processor | Socket |
| --- | --- | --- | --- | --- | --- |
| Fuel Jump Server | ZTE 4300 | 32 GB | 600GB HDD | Intel Xeon E5-2680 | 2 |
| Node*8 | E9000 | 128 GB | 600GB HDD | Intel Xeon E5-2680 | 2 |
Software
The Jump servers in the Testlab are pre-provisioned with the following software:
Fuel-Jump Server:

OS: CentOS

Preprovisoned softwares: KVM, VNC server
Networks
Testlab Access
This environment is free to be used by any OPNFV contributor or committer for the purpose of OPNFV approved activities. We could provide the VPN access for you, and access to this environment can be granted by sending an e-mail to:
subject: opnfv_zte_access.
The following information should be provided in the request:
Full name:

E-mail:

Organization:

Source IP:

Resources required:

Uses: