The Enea Pharos Lab is a commonly world-wide available ARMv8 aarch64-based server cluster for OPNFV platform component and VNF verification. It is based at Enea HQ in Stockholm, Sweden, and offers one POD initially.
The cluster contains:
Jump Server / KVM Server: Intel Xeon E5-2620v3 @ 2.40GHz (2x6 cores), 64GB RAM, 2x160GB SSD (mirrored) for OS, 2x2TB HDD (mirrored) for storage, 2x10Gbps NICs (RJ45), IPMI interface (separate NIC).

Controller nodes: 3 * Applied Micro X-Gene 2 ARMv8-64 8 cores @ 2.4GHz, 32GB RAM, 1x128GB SSD, 2x1TB HDD, 1x10Gbps SFP+ NICs, 2x1Gbps NICs.

Compute nodes: 2-3* Cavium Networks CN8890-CRB ThunderX ARMv8-64 48 cores @ 2.5GHz, 8x16GB RAM (128GB total), 1x500GB HDD, 1x40Gbps QSFP+ NIC, 2x10Gbps SFP+ NICs, 1x1Gpbs NIC (RJ45, IPMI interface).

Extreme Networks x670 10GE L3 switch for Storage, Management, private, Public and Lights-Out networks - 2x10GE to each server.

HP 2530-48G 1GE L2 switch for Public, Admin and Lights-Out networks.

Digi International PortServer TS Serial-to-Ethernet gateway for remote serial access to network nodes.
Below you'll find an overview of the cluster architecture and network setup: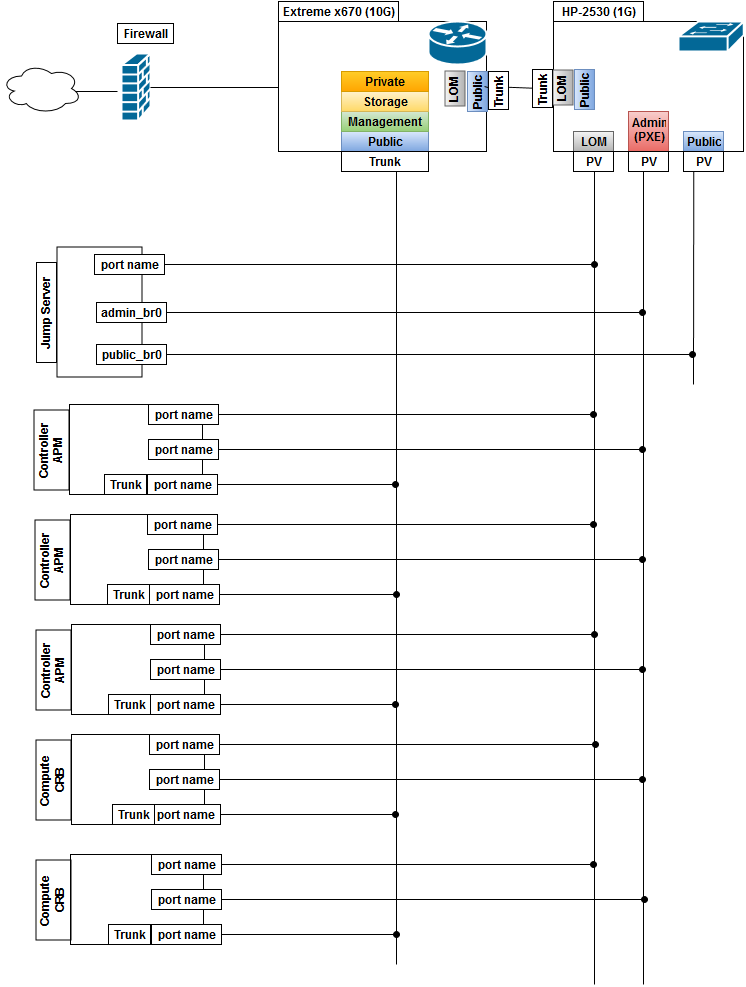 This environment is free to use by any OPNFV contributor or committer for the purpose of OPNFV approved activities.
Access to the environment is granted by sending an e-mail to joe.kidder@enea.com, providing the following information:
Full name

e-mail

Phone

Organization
The mechanism for external access involves openvpn and Google Authenticator.
Any questions related to the lab can be directed to joe.kidder@enea.com.