Table of Contents
Project: Multi-site Virtualized Infrastructure (Multisite)
NFV infrastructure must be distributed across multiple geographical locations. This will require multiple connected OpenStack deployments, of different sizes. The infrastructure will also mix physical and virtual infrastructure.
The platform must be able to support application-level redundancy across different datacenters, network management across multiple sites, and between physical and virtual infrastructure, multi-site image replication, and global and per-site quota management.
This project focus on the enhancement to OpenStack ( Nova / Cinder / Neutron / Glance / Ceilometer / KeyStone ), so that OpenStack as the VIM is able to support multisite NFV cloud.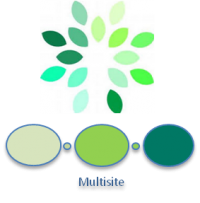 Related wiki pages:
---
Key Project Facts
Project: Multi-Site Virtualized Infrastructure (Multisite)
Creation Date: April 21, 2015
Category: Requirement
Lifecycle State: Incubation
Primary Contact: Chaoyi Huang ( joehuang@huawei.com )
Project Lead: Chaoyi Huang ( joehuang@huawei.com )
Jira Project Name: multisite
Jira Project Prefix: multisite
Mailing list tag: [multisite]
Repository: multisite

Committers and Contributors
Committers:
  Chaoyi Huang, Huawei ( joehuang@huawei.com)
  Xiaolong Kong, Orange (xiaolong.kong@orange.com)
  Colin Tregenza Dancer, Metaswitch (ctd@metaswitch.com)
  Zhipeng Huang, Huawei (huangzhipeng@huawei.com)   
  Ulrich Kleber, Huawei (Ulrich.Kleber@huawei.com) 
  Dimitri Mazmanov, Ericsson (dimitri.mazmanov@ericsson.com)
  Ashish Singh, Ericsson (ashishsingh2k8@gmail.com)
Contributors:
  François Despres, Orange (francois.despres@orange.com)
  Jie Hu, ZTE(hu.jie@zte.com.cn)
  Mike Godley, Intel (michael.godley@intel.com)
  Chen Zhengguang, ZTE(chen.zhengguang@zte.com.cn)
  Sama Malla Reddy, NTT Docomo(sama@docomolab-euro.com)
  Keisuke Kuroki, KDDI Labs (ke-kuroki@kddilabs.jp)
  Rajeev Seth, Sonus Networks (rseth@sonusnet.com)
IRC : freenode.net #opnfv-meeting
GoToMeeting :

Trello : Multisite Trello Board for coordination
Mailing List : no dedicated mailing list - use opnfv-tech-discuss and tag your emails with [multisite] in the subject for easier filtering
Repository: multisite