pinpoint:pinpoint_project_proposal
Table of Contents
Pinpoint:
Proposed name for the project: Pinpoint

Proposed name for the repository: pinpoint

Project Categories: Requirements
Project description:
The overall goal of the Pinpoint project is to provide fault localization framework for NFVI and VIM layers focusing on network issues

Fault localization target is to deduce the exact source of a failure from a set of observed failure indications while reducing the time spent on analyzing problems.

Fault localization also identify performance bottlenecks easily revealing the true source of the various symptoms

Fault localization is also known as fault isolation, alarm/event correlation, and root cause analysis (RCA).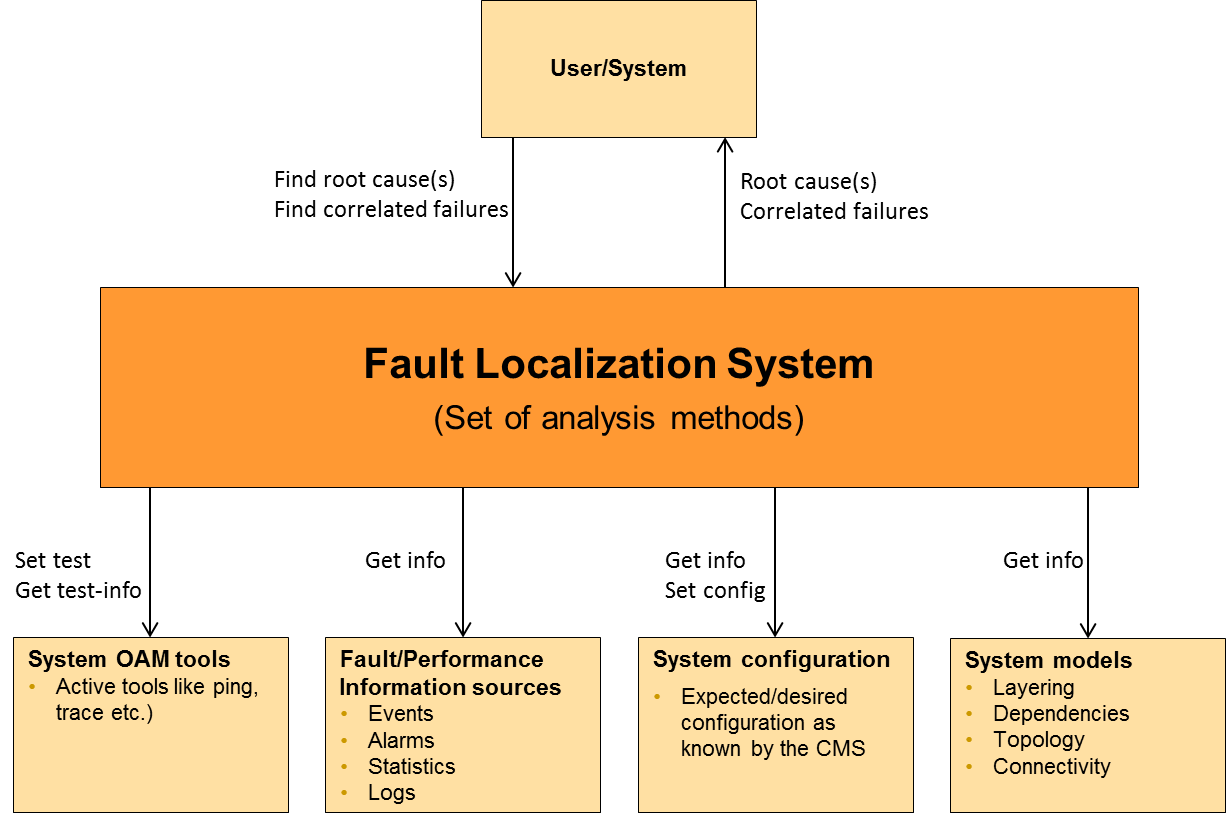 Scope:
Define the relevant APIs for fault localization system

Define functional requirements for fault localization block

Perform gap analysis on existing API, mainly on OpenStack components and SDN controllers

Out of scope : Fault localization specific algorithm

Future extensions: Fault localization for compute and storage, Extend for upper layers of NFV (alongside OPNFV evaluation)
Dependencies:
The project has some relations to the: Doctor, Yardstick and bottleneck OPNFV projects as it may use some of their APIs

The project is related to the: Neutron, Nova, Ceilometer and maybe some other OpenStack project as it may use some of their APIs

The project is related to the: Onos and ODL project as it may use some of their APIs

The project is aligned with an activity in IETF LIME group to provide generic model for technology agnostic network OAM
Committers and Contributors:
  Adi Molkho (Huawei: adi.molkho@huawei.com)
  Mishael Wexler (Huawei: mishael.wexler@huawei.com)
  Guodayong (Huawei: guodayong@huawei.com )
  Adam Itshar (Huawei: adam.itshar@huawei.com)
  Zhouxingwang (Joe)  (Huawei: zhouxingwang@huawei.com )
  Zhipeng Huang (Huawei: zhipengh512@gmail.com)
Planned deliverables
User requirements of OPNFV fault localization.

Gap analysis on fault localization APIs with open source upstream projects.

Propose BPs in OpenStack projects, Onos and ODL according to gaps found in the analysis.
Proposed Release Schedule:
Key Project Facts
Project Name: Pinpoint
Repo name: pinpoint
Project Category: Requirements
Lifecycle State: Proposal
Primary Contact: Adi molkho adi.molkho@huawei.com
Project Lead: Adi molkho adi.molkho@huawei.com
Jira Project Name: Same as Project name
Jira Project Prefix: PNT
mailing list tag PNT_pinpoint
Committers:
adi.molkho@huawei.com
mishael.wexler@huawei.com

pinpoint/pinpoint_project_proposal.txt · Last modified: 2015/08/18 05:36 by Adi Molkho