wiki:vswitch_release_plan
Table of Contents
VSPERF Release Plan
This Page will maintain the release plans for VSPERF
VSPERF Scrum Board and backlog
Release Plans
Brahmaputra Release
Goals
Our goals for the VSPERF test framework this release are:
Support our 3 base deployment scenarios: P2P, PVP and PVVP

CI Support and integration for VSPERF

Support Vanilla OVS and OVS with DPDK.

Support all RFC2544 defined tests.

Support IMIX traffic testing with RFC 2544.

Support IXIA, Spirent, Moongen and Xena.

Participate in opnfv_test_dashboard
Stretch Goal:
Support IP routing on the switch, as well as simple port forwarding

RFC2544 Scalability tests (Implementation)

LTD.Throughput.RFC2544.Profile (Implementation)

LTD.Throughput.RFC2544.SystemRecoveryTime (Implementation)
Timeline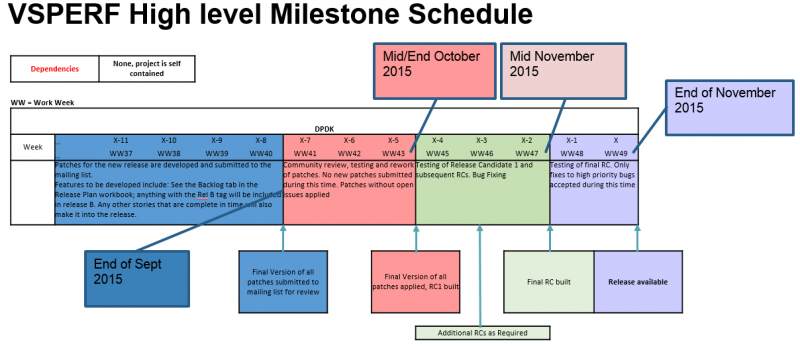 JIRA
Sprints
Interaction with other OPNFV projects
We would like to collaborate with Yardstick on their vswitch performance tests and the OPNFV dashboard for Release B.