Minutes of Doctor Project on November 17, 2014
Date and Time: UTC 14:00, Monday November 17, 2014

Convenor: Ashiq Khan (NTT DOCOMO)

Participants:

Ashiq Khan (NTT DOCOMO)

Bertrand Souville (NTT DOCOMO)

Carlos Goncalves (NEC)

Juha Oravainen (Nokia)

Michael Lynch (Intel)

Palani Chinnakannan (Cisco)

Peter Lee (ClearPath)

Petri Kemppainen (Nokia)

Ryota Mibu (NEC)

Tapio Tallgren (Nokia)

Ulrich Kleber (Huawei)

Others
1) Technical aspects and relevance to upstream projects
Ryota created new Wiki page to start technical discussions on the "Doctor" Project. He presented his document:
Use cases section includes short description of the Auto Healing, Safe Switching and VM retirement use cases.

Requirement section contains an initial list of features and items to be addressed.

Architecture section contains a description of the architecture functional blocks and one example implementation in OpenStack.

It was clarified that the resource owner may be VNFM or NFVO. What is important is to have the feature in the northbound interface.

Discussion around adequate pub/sub model for fault notification. Palani agreed to support this activity.

Ryota explained that during the OpenStack Paris Summit, there were some discussions on letting Monitor(s)/Inspector update resource state information (e.g. VM state in Nova). This idea was accepted by Nova team.

It was also agreed to have the Monitor(s) / Inspector outside of OpenStack / VIM (easier to extend these functional blocks if outside of OpenStack when new types of NFVI faults need to be reported to the VIM).

It was clarified that Heat is emulator for VNFM/NFVO and interface between Heat and Nova shall be used for corrective actions on VMs.

All are welcomed to edit

Wiki page

, review/modify/add new use cases and notify Ryota of changes to this page.

All are welcomed to draw other architecture figures.
2) Resources available and necessary for this project
Initial list of developers / committers: Ryota, Carlos, Tomi, Zhangyu, Palani

Initial list of contributors to specs / documentation: Ashiq, Uli, Serge, Dirk
3) Scoping and scheduling (what features to be realized in what time frame)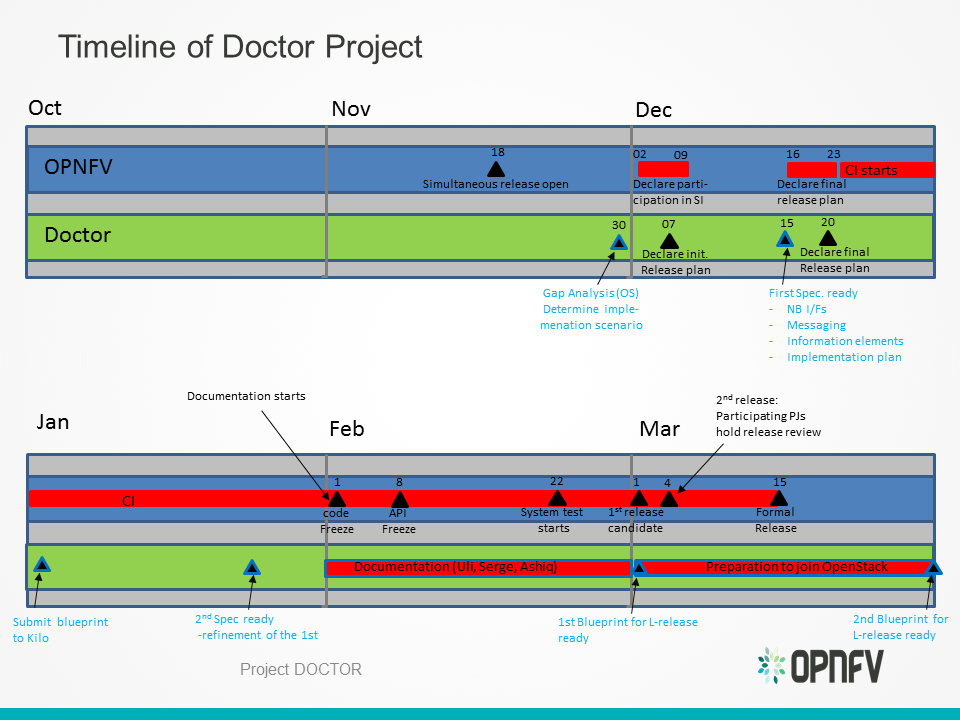 Important milestones:
OpenStack Gap Analysis by end Nov 2014

First Spec ready by mid Dec 2014. Second / Revised Spec ready by mid / end Jan 2015

Blueprints submitted to OpenStack by end Mar 2015 (L-release)

Depending on the progress of the work, blueprints may already be submitted in Jan 2015 (Kilo-release)
4) AOB
It was decided to have weekly meetings.

Because of national holiday in Japan on Nov 24, next meeting is planned on Dec 1 (Mon) at 14:00 UTC
5) Action Items
Ashiq to report on what kind of faults need to be detected from operational point of view

Ashiq to check timeline of other upstream projects (e.g. KVM, ODL)

Palani to report on relevant pub/sub Open Source project
doctor_minutes_20141117.txt · Last modified: 2014/11/21 14:10 by Bertrand Souville